Funtime Comics Omnibus : Vol.2 : Collected Issues 30, 31, 32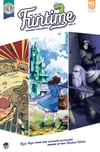 Funtime Comics Omnibus Vol.2 showcases the comics, graphic art, illustrations, and stories from various New Zealand international writers and artists.
This 2nd volume collates material originally released in issues #30, #31 & #32 of New Zealand's longest-running comics anthology.
Featuring the work from cover artist's Jared Lane, Ryan Scott, and Ryan Green with his sci-fi epic 'Sophie & Gil' and Alex Cara's colonial tales. And introducing the glorious antics of the selfless Gareus by Shaun Garea, Simon Fletcher's surreal 'Real Dreams' and an array of new and veteran contributors to the pages of Funtime.
Cover design includes: #30 Cover Art by Jared Lane, #31 Cover Art by Ryan Scott, and #32 Cover Art by Ryan Green
---------------------------------
Published by Funtime Comics
ISSN 2703-2930 (Print)
Full colour, perfect bound, 236 pages, gloss laminated cover, spine 13mm
Funtime Comics #30 - Artists and Writers:
Jared Lane
Grant Buist
Aaron Christiansen
Alex McCrone
Ryan Green
Bob Gibbons
Simon Fletcher
Shaun Garea
David Macdonald
Indira Neville
Kelly Sheehan
Jason Lennie
Nate Tamblyn
Funtime Comics #Issue 31 - New Zealand Artists and Writers:
Eddie Monotone
Glenn Hibburt
Aaron Christiansen
Ryan Green
Paul Jason Young
Bob Gibbons
Armouros Cardear
Shaun Craill
Simon Fletcher
Shaun Garea
Dan Brader
Arthur J Whelan
David Mcdonald
Dylan Horrocks
Adrian Kinnaird
International Guests:
Arcadio Esquivel Mayorga
David Robertson
Funtime Comics #Issue 32 - New Zealand Artists and Writers:
Aaron Christiansen
Ryan Green
David Robertson
Simon Fletcher
Karen Phelps
Brent Willis
Shaun Garea
David Mcdonald
Bob Gibbons
Ryan Scott
Austin Milne
Kristof Haines
Isaac Taylor
Tony Scanlan
Jared Lane
Matt Graham
Andrew Kepple
International Guests:
Arcadio Esquivel Mayorga
Santiago Cornejo
David Robertson