Funtime Comics Omnibus : Vol.1 : Collected Issues 27, 28, 29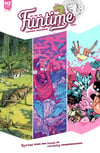 Funtime Comics Omnibus Vol.1 showcases the comics, graphic art, illustrations, and stories from various New Zealand international writers and artists.
This debut volume collates material originally released in issues #27, #28 & #29 of New Zealand's longest running comics anthology.
Featuring all 40 pages of Jared Lane's sci-fi disaster thriller Chronos (including the last chapter from issue #30), the final chapters of Bob Gibbon's Mr Blurt, Isaac Freeman's Glop, and introducing the incredible comic art of Ryan Green and an array of young emerging talent from Nate Tamblyn, Sarah Lund, Alex Cara, David MacDonald, and many more...
Cover design includes: #27 Cover Art by Jordan Debney, #28 Cover Art by Alex Cara, and #27 Cover Art by Ross Murray
---------------------------------
Published by Funtime Comics
ISSN 2703-2930 (Print)
Full colour, perfect bound, 220 pages, gloss laminated cover, spine 13mm